A digital signature certificate is an electronic form of a signature that can be used to authenticate the identity of the sender of a message or the signer of a document, and also ensure that the original content of the message or document that has been sent is unchanged. Digital signatures are easily transportable and cannot be imitated by someone else. The ability to ensure that the original signed message arrived means that the sender cannot easily disclaim it later. We provide the best price for digital signature certificate in Kerala.
Signature Certificate
The signature certificate is corresponding to the signing private key. It will be used by individuals or organizations for signing purpose. The key pair will be generated by applicant/subscriber in a secure medium and is inherent to keep his private key in safe custody. The signature certificate is issued by e-Mudhra after the validation process mentioned in the CPS. The relying parties can make use of this certificate for signature verification.
Encryption Certificate
The encryption key pair is used by the subscriber for receiving encrypted messages which is encrypted using subscriber's public key. The subscriber fills in the application and submits to eMudhra or it's authorized RAs along with the identification and address proof. The RA verifies the application, id proof and address proof and approves the request. The Subscriber provides a password in the portal for protecting the encryption certificate. The server generates the encryption key, escrows and makes it available for the customer in the portal. The subscriber needs to login with the credentials sent to his digital id and download the encryption certificate from the portal.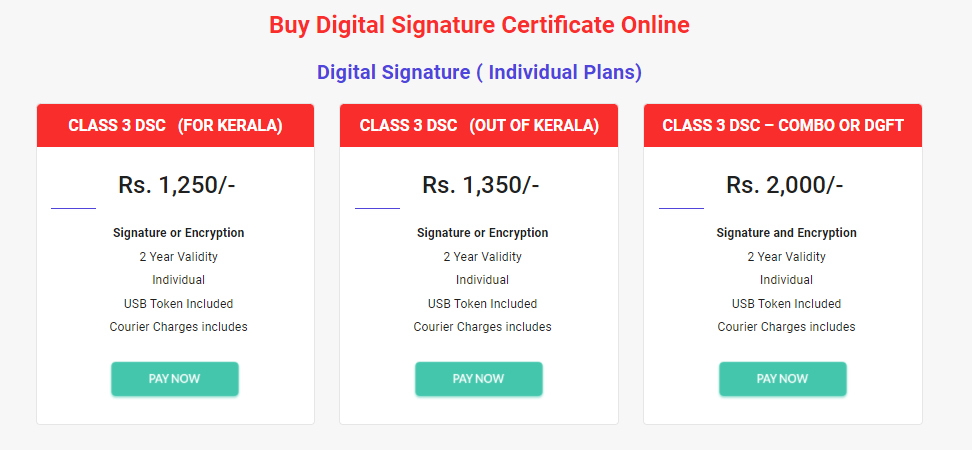 Applications of Digital Signature Certificate
eMudhra is a Certifying Authority (CA) authorised by the Controller of Certifying Authority (CCA) for issuance of Digital Signature Certificates in India. eMudhra provides Class 1, Class 2 and Class 3 Digital Signature Certificates (DSC) along with digital signatures for specific needs such as Income Tax filing, MCA, e-tendering, e-procurement and Foreign Trade.
MCA / RoC e-filing
Foreign Trade and Digital Signature Certificates (DGFT Digital Signatures)
GST Filings
Government Organizations
Digital Signature for AICTE Filings by Universities
Digital Signature for CBSE School Principal
e-Tendering/e-Procurement
DSC for Principal/Head
Digital signature for Colleges & Universities
Employees' provident Fund Organization
Documents Required for apply Digital Signature Certificate (DSC)
For applying paper less dsc, the documents required are
PAN Card
Aadhaar Card
Email id
Mobile Number
Photo of the applicant
We are leading digital signature certificate service provider in India. Currently we get orders / sell digital signatures at most of the big cities and towns in India. We arrange courier services for physical delivery of DSC Tokens all around in India. Now we have corporate / Government / Individual / Organizational clients in various cities like Mumbai, Delhi, Bangalore, Hyderabad, Ahmedabad, Chennai, Kolkata, Surat, Pune, Jaipur, Lucknow, Kanpur, Nagpur, Indore, Thane, Bhopal, Visakhapatnam, Pimpri-Chinchwad, Patna, Vadodara, Ghaziabad, Ludhiana, Agra, Nashik, Ranchi, Faridabad, Meerut, Rajkot, Kalyan-Dombivli, Vasai-Virar, Varanasi, Srinagar, Aurangabad, Dhanbad, Amritsar, Navi Mumbai, Allahabad, Howrah. Gwalior, Jabalpur, Coimbatore, Vijayawada, Jodhpur, Madurai, Raipur, Kota, Chandigarh, Guwahati, Solapur, Hubli–Dharwad, Mysore, Tiruchirappalli, Bareilly, Aligarh, Tiruppur, Gurgaon, Moradabad, Jalandhar, Bhubaneswar, Salem, Warangal, Mira-Bhayandar, Jalgaon, Guntur, Thiruvananthapuram, Bhiwandi, Saharanpur, Gorakhpur, Bikaner, Amravati, Noida, Jamshedpur, Bhilai, Digital Signature Certificate in Mumbai, Cuttack, Firozabad, Kochi, Nellore, Bhavnagar, Dehradun, Durgapur, Asansol, Rourkela, Nanded, Kolhapur, Ajmer, Akola, Gulbarga, Jamnagar, Ujjain, Loni, Siliguri, Jhansi, Ulhasnagar, Jammu, Mangalore, Erode, Belgaum, Kurnool, Ambattur, Rajahmundry, Tirunelveli, Kozhikode, Kollam, Thrissur, Malappuram, Kannur, Palakkad, Kottayam etc.