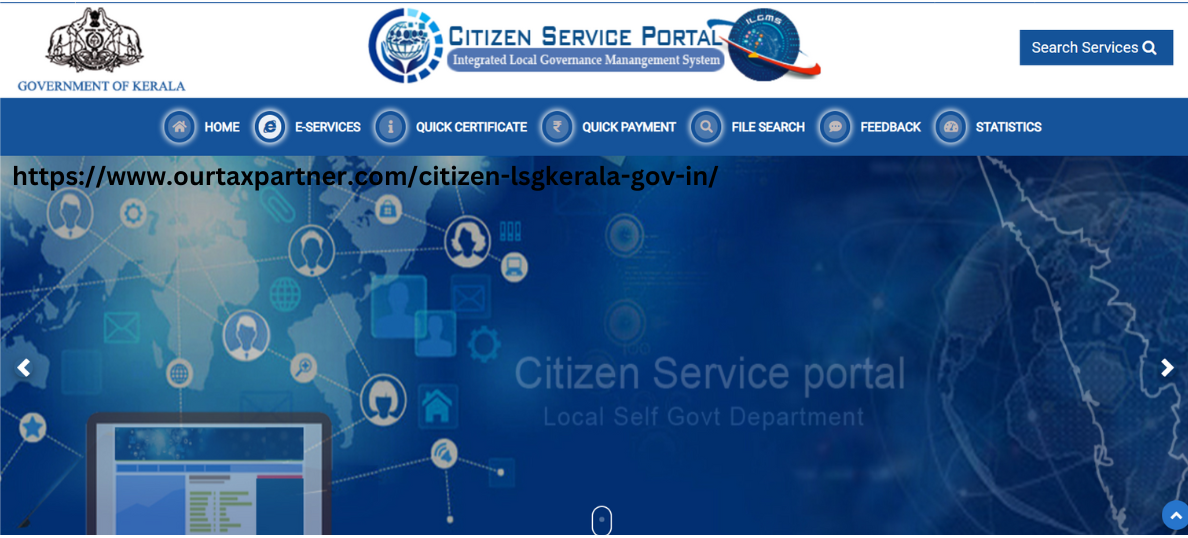 Citizen Service Portal maintained by Kerala Local Self Government Department provide various E-Services for the citizens in the State of Kerala. The portal offers a system of an Integrated Local Governance Management System of various services of the Kerala State Government. This portal enables increased transparency in the services provided by the various LSGDs. The portal increases clarity, confidence, and easiness in the multiple services offered by the LSGDs and enables the Government's initiative of the paperless office. Citizen Service Portal also enables a Quick Online payment facility for the public for their services—a common portal for all Citizen services of Local Self Goverment Institutions in Kerala. Citizens can submit their applications online, and they will get the response online—the facility to submit supporting documents. The domain for the portal is https://citizen.lsgkerala.gov.in/.
Download the Tutorial for various Registrations, Licenses, and Permissions in Kerala Citizen Service Portal -https
കേരള സിറ്റിസൺ സർവീസ് പോർട്ടലിലെ വിവിധ രജിസ്ട്രേഷനുകൾ, ലൈസൻസുകൾ, അനുമതികൾ എന്നിവയ്ക്കുള്ള മാർഗ്ഗനിർദ്ദേശങ്ങളും നടപടിക്രമങ്ങളും.
Various E-Services under the Kerala Citizen Service Portal
കേരള സിറ്റിസൺ സർവീസ് പോർട്ടലിന് കീഴിലുള്ള വിവിധ ഇ-സേവനങ്ങൾ
BIRTH, DEATH, AND MARRIAGE REGISTRATIONS ( ജനനം, മരണം, വിവാഹ രജിസ്ട്രേഷനുകൾ)
Main Service
Sub Service
BIRTH REGISTRATION
(ജനന രജിസ്ട്രേഷൻ)
Birth – New Registration
(ജനനം – പുതിയ രജിസ്ട്രേഷൻ)
Still Birth Registration
(നിർജ്ജീവ ജനന രജിസ്ട്രേഷൻ)
Birth – Application for Corrections
(ജനനം – തിരുത്തലുകൾക്ക് വേണ്ടിയുള്ള അപേക്ഷ)
Birth – Application for Name inclusion
(ജനനം – പേര് ചേർക്കലിനുള്ള അപേക്ഷ)
Birth – Application for Non Availability Certificate
(ജനനം – നോൺ അവൈലബിലിറ്റി സർട്ടിഫിക്കറ്റിനുള്ള അപേക്ഷ)
Application for Birth Certificate
(ജനന സർട്ടിഫിക്കറ്റിനുള്ള അപേക്ഷ)
DEATH REGISTRATION
Death – New Registration
Death – Application for Corrections
Death – Application for Non Availability Certificate
Application for Death Certificates
COMMON MARRIAGE REGISTRATION
Common Marriage – New Registration
Common Marriage – Application for Corrections
HINDU MARRIAGE REGISTRATION
Hindu Marriage – New Registration
Hindu Marriage – Application for Corrections
CERTIFICATES – OTHERS
Main Service
Sub Service
BUILDING – OWNERSHIP/ RESIDENTIAL CERTIFICATE
Application for Ownership Certificate
Application for Residential Certificate
Application for Temporary Residential Certificate ( As per GO(MS) No.170/2016/LSGD )
Application for Temporary Residential Certificate ( As per GO(Rt) No.22/2004/FHD and Circular No.48296/RA1/2009/LSGD )
BUILDINGS – OTHER CERTIFICATES
Application for Age Certificate of Building
Application for Certificate regarding details of Building in the Assessment Register
Application for Certificate regarding Exemption of Property Tax
Application for Certificate of Property Tax non-assessment
BPL CERTIFICATE
Application for BPL Certificate to those who included in BPL List
Application for BPL Certificate to those who not included in BPL List
SOCIAL SECURITY PENSION – CERTIFICATES
Application for Certificate regarding Social Security Pensions not granted
Old Age Pension – Application for Certificate regarding Pension granted / not granted
Widow Pension – Application for Certificate regarding Pension granted / not granted
Disability Pension – Application for Certificate regarding Pension granted / not granted
Pension for Unmarried Women Above 50 Years of Age – Application for Certificate regarding Pension granted / not granted
Agricultural Workers Pension – Application for Certificate regarding Pension granted / not granted
SOCIAL SECURITY SCHEMES- CERTIFICATE
Application for Certificate regarding Unemployment Allowance granted / not granted
Application for Certificate regarding Financial Assistance granted / not granted
Application for Certificate stating Nilathezhuthu Ashan Grant Beneficiary / Non Beneficiary
GENERAL CERTIFICATES
Application for Certificate regarding Non receipt of Assistance
Application for certificate of no habitable home
Application for certificate of habitable home
Application for certificates issued by Gramapanchayat President
Application for certificates issued by Municipal Chairman / Chairperson
Application for certificates issued by Municipal Corporation Mayor
SOCIAL SECURITY PENSIONS
SOCIAL SECURITY SCHEMES
LICENCES AND PERMISSIONS
BUILDINGS
COMPLAINTS
APPEALS
TAXES
RIGHT TO INFORMATION ACT
LEGAL ASSISTANCE
PUBLIC SAFETY
PUBLIC AMENITIES
DECENTRALIZED PLANNING
MAHATMA GANDHI NATIONAL RURAL EMPLOYMENT GUARANTEE SCHEME
AYYANKALI URBAN EMPLOYMENT GUARANTEE SCHEME
The Help Desk Information of Kerala Citizen Service Portal :
(കേരള സിറ്റിസൺ സർവീസ് പോർട്ടലിന്റെ ഹെൽപ്പ് ഡെസ്ക് വിവരങ്ങൾ )
Information Kerala Mission ( ഇൻഫർമേഷൻ കേരള മിഷൻ )
Public Office Building (പബ്ലിക് ഓഫീസ് കെട്ടിടം)
Public Office PO (പബ്ലിക് ഓഫീസ് പി.ഒ)
Thiruvananthapuram, Kerala – 695033 ( തിരുവനന്തപുരം, കേരളം )
Tel : +91-471-2773160
Email : [email protected]