Partnership firms is one of the most popular form of business constitution in Indian economy. The other types of business in India are Proprietorship, Private Limited Company, Public Limited Company, HUF and Limited Liability Partnership. Every Partnership firms formed in India are as per the guidelines of "The Indian Partnership Act, 1932 ". Partnership firm registrations in India are controlled by above Act. Partnership business must have two or more partners, we can't create a Partnership firm with single partner. In Kerala, EGROOPS managed by Registrar of Firms, is the official online platform to register Partnership business. Partnership firm registration procedure in Kerala is very simple and easy to do.
The act describe the Partnership and partner as
"Partnership" is the relation between persons who have agreed to share the profits of a business carried on by all or any of them acting for all.

Persons who have entered into partnership with one another are called individually, "partners" and collectively "a firm", and the name under which their business is carried on is called the "firm-name"


Characteristics of Partnership Firm in India
The minimum number of partners require to form a Partnership business is 2. Maximum number of partners in a partnership firm is 100. A Partnership firm has no separate legal entity from its partners. Every partner has unlimited liability in a partnership firm. Partners personal assets are legally liable against the Partnership debts and liabilities. The registration of Partnership deed is not mandatory by rules. In Partnership business, a partner cannot transfer his interest without the consent of other Partners.
Why Partnership Firm?
Partnership Firms in India have only limited compliance's and can manage easily with less cost of administration. Now Registration procedure of a partnership firm is simplified by the State Governments to promote the trade and commerce in the Country. Registrar of Firms Kerala is the competent authority to control and regulate the Partnership Firms in Kerala. Partnership firm registration procedure in Kerala will come under the control of Registrar of Firms Kerala.
Benefits of Partnership Firm Registration
Easy to Register : Partnership firm is very easy to form and not much have any legal formalities. Partnership business can start business immediately after entering the partnership deed.
Simple Name Selection Procedure : Partnership firm are simple form to start a business in groups. Name selection of partnership firm is very simple.
No Statutory Audit / Annual Return : Like Private limited company / Public limited / LLP, a Partnership firm doesn't have any statutory audit except the Income Tax Audit. No annual audit or annual return filing by Registrar of Firm's.
Less legal compliance's : In compare with ROC Registered business, Partnership business have low legal compliance's.
Sharing of Risk : Partnership firm enables risk sharing between the partner's. That means the entire liability of partnership firm not come to a Partner.
Presumptive Tax Filing Scheme : Partnership firms can avail the benefit of Presumptive Tax Return Filing Scheme under Income Tax Act 1961. Income Tax Return Filing is mandatory for all Partnership Firms. Get find support from us to file Business tax return of your partnership business. The income tax percentage for Partnership firm is flat 30%.
Partnership firm may have registered or unregistered
EGROOPS – Partnership Firm Registration Procedure in Kerala
In Kerala, Partnership firms are register under "The Registration Department of Kerala (Registrar of Firms, Kerala). The Application Form for Registration of Partnership firm is FORM 1. Now, the Form 1 is submitted through online at EGROOPS. For firms and society registration, the department introduced new portal for its ease of doing business and registration in Kerala is " Egroops ". Electronic Governance for Registration of Partnership Firms and Societies (Egroops) is the official website for online Registration of Societies and Partnership Firms in Kerala.
Egroops is developed by the Center for Development of Imaging Technology (C-DIT) for the easy registration of Partnership firms and Societies to the public in Kerala. The Registration fees of partnership firms in is Rs. 500 only. The applicant can pay the challan amount through Online/ Demand Draft/ Money Order. From October 7, 2019 onwards only E- Payment is accepted by Egroops.

The Communication address of EGROOPS / Registrar of Firms Kerala is

Inspector General, Department of Registration, Vanchiyur P.O, Thiruvananthapuram, Kerala – 695035 E-Mail : [email protected], Phone :0471-2472118, 2472110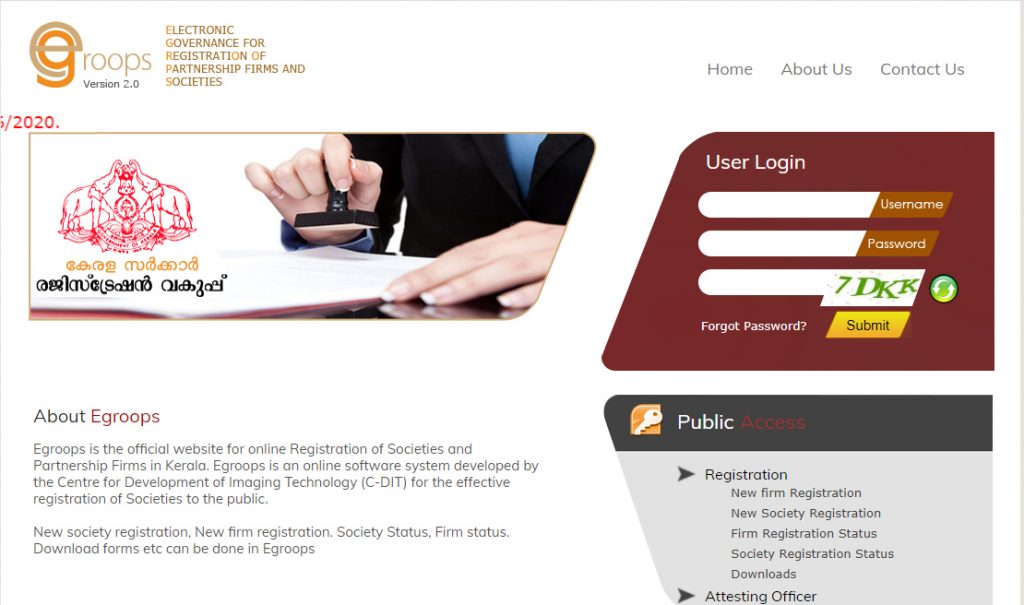 In Egroops we can do :
Partnership Firm Registration Procedure in Kerala
Partnership firm name search : EGROOPS Portal provides a name search facility to check the availability of preferred Name. Better to avoid the identical name to ensure non rejection of application.
Partnership Deed Preparation (As per Kerala stamp duty and Registration fees Partnership Instrument of Partnership deed at Rs. 5,000)
How to Register a Partnership Firm in Egroops ?
Step 1 : Create a login in Egroops by one E-mail id.
Step 2 : After login Click on " Firm Registration" and fill the details of New Firm and Partner details.
Firm Details to Enter :
Name of Partnership Firm
Duration of Partnership Firm
Principal Place of Business
Building No. & Address of Business
Email id & Phone Number
No. of Partners
Partner Details to Enter :
Partner Type
Name of Partner
Age & Gender of Partner
Name of guardian
Relationship with guardian
Date of Joining
Address & Phone Number
Upload Photo, Id Proof & Specimen Signature of Partner
Step 3 : Make the Payment of Rs. 500/-
Mode of Payment : Online (From October 7, 2019 onwards only E- Payment is accepted by Egroops)
(On receiving payment, you will receive a confirmation message and reference number for future reference, the same will send to the registered mobile number and email ID )
Step 4 : Attestation of application with the registered Attesting officer.
Step 5 : Review of Application by the Concerned Authority and Issue the "Acknowledgement of Registration of Firm".